Apricot Glazed Chicken with Brown Rice and Spinach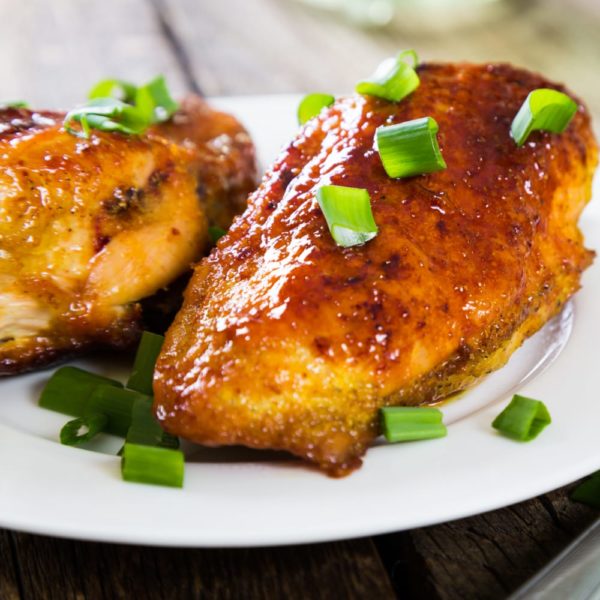 An apricot-and-balsamic glaze lends a luscious flavor to this baked chicken entrée. It's served with magnesium-rich spinach. Plate it over brown rice.
4

Servings

Prep Time

Total Time
Directions
Preheat oven to 350 F.
In a large skillet, heat 2 tbsp. oil over medium heat. Add the apricots, cut side down, and cook until lightly browned, about 3 minutes. Turn the apricots and cook for 1 minute longer then set aside.
In a small saucepan add the apricot preserves, balsamic vinegar, and pepper and simmer 3 minutes or until the mixture has a glaze-like consistency, add the apricots to the mixture.
Boil water and begin to prepare brown rice according to package directions.
Coat a baking dish with a tablespoon of olive oil and place chicken breasts in dish. Brush each breast with 1 tbsp of apricot glaze and bake 30 minutes, keep remaining glaze on the stove top at very low heat to keep warm. 5 minutes prior to taking chicken out of the oven heat 1 tbsp of olive oil over medium heat in a sauté pan, add spinach to pan and sauté until spinach is cooked down to desired consistency, about 5 minutes. Season with garlic powder and salt to desired taste.
Take chicken out of oven top with additional apricot sauce and serve over brown rice.
Ingredients
4 tbsp olive oil, divided
1/2 cup apricot, halved
3 tbsp apricot preserves
1/3 cup balsamic vinegar
¼ tsp ground black pepper
1 1/2 lb. boneless, skinless chicken breast (cut into 4 oz. portions)
2 cups brown rice
2 cups spinach
1 tsp garlic powder
1/4 tsp salt to ingredients