Baked Asian Chicken Thighs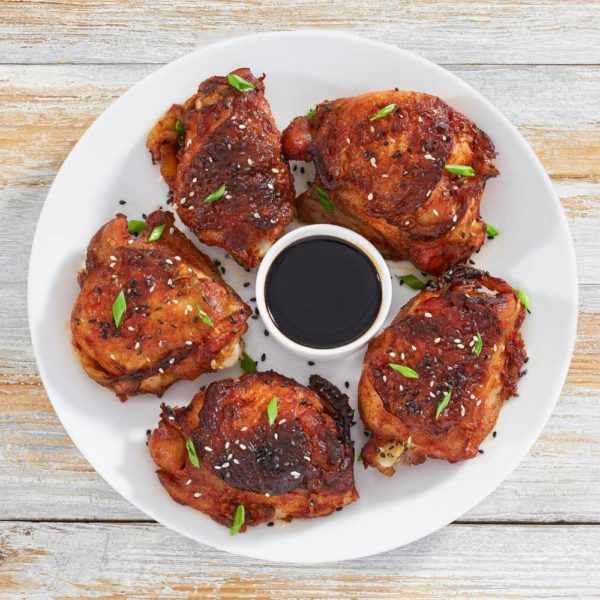 Serve a delicious Asian-inspired meal to your family in no time at all! Simply cover your chicken thighs overnight in this easy and delicious marinade and bake in the oven for a meal worthy to rival your favorite takeout.
4

Servings

Prep Time

Total Time
Directions
Combine chicken and all marinade ingredients into a plastic bag and let marinate for 4-6 hours or overnight.
Once marinated, preheat oven to 425°F.
Line a 9x9 baking pan with foil and empty contents of bag into the pan, spreading the chicken thighs out. Sprinkle 1/4 tsp of five-spice on top of the chicken thighs.
Squeeze the juice of 1 lime over the chicken, then lay the lime in the marinade liquid between the chicken.
Bake for 45-50 minutes, or until the chicken reaches an internal temperature of 165°F.
While chicken is baking, in a medium pot bring water to a boil and cook 2 cups of brown rice until tender.
Prepare julienned bell pepper and snap peas to your preference. If roasting, line a baking sheet with foil and vegetables and place in oven halfway through chicken cooking time.
Serve over brown rice with julienned bell pepper & snap peas and garnish with scallions.
Ingredients
4 bone-in, skinless chicken thighs
¼ tsp five spice
1 oz lime juice
4 cups snap peas
2 medium bell peppers, julienned
2 cup brown rice
4 tbsp scallions (optional)

For the Marinade

4 tbsp soy sauce
1 tbsp olive oil
2 tbsp maple syrup
1 tbsp vinegar
2 tsp ground ginger
2 tsp garlic powder
1 tsp red pepper flakes
2 tsp sesame oil
2 tbsp lemon juice
2 tbsp sesame seeds
½ tsp ground black pepper
½ tsp salt