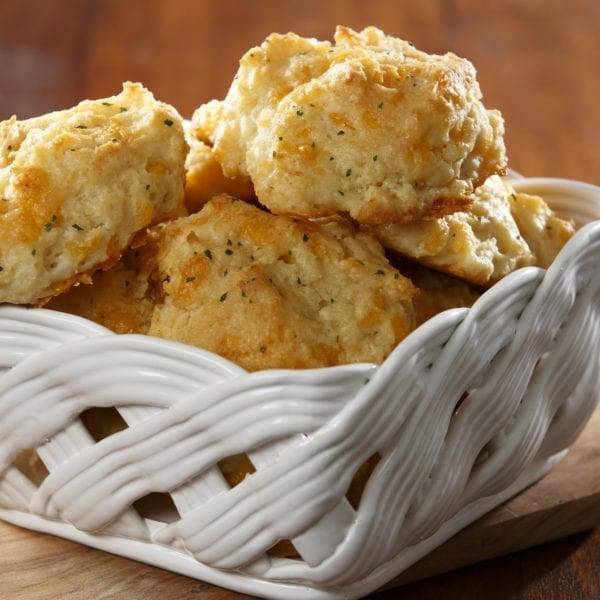 A delightfully clever twist on a down-home favorite, these Cauli Cheddar Biscuits combine almond meal and melty cheddar cheese for a winning side dish that cuts your carbs. Best of all – you'll get your veggies in (courtesy of ½ head of cauliflower).
Enjoy as a snack or side dish as part of the standard SlimFast Plan or if you're following SlimFast Keto!
12

Servings

10 min

Prep Time

40 min

Total Time
Directions
In a food processor, add cauliflower in batches and process until it resembles fine crumbs. In the last batch, add paprika, red pepper flakes, garlic powder and onion powder.
Preheat oven to 400 F.
Preheat non-stick skillet on medium to high heat and spray with cooking spray. Add cauliflower and cook for 5-7 minutes or until lightly golden, stirring frequently and watching closely not to burn. Allow the cauliflower to cool.
While Cauliflower is cooking, whisk the eggs in a medium bowl.
Add almond meal and pre-cooked cauliflower along with cheese (except three tbsp), salt and pepper. Mix well.
Line muffin pan with liners or use silicone muffin pan sprayed with cooking spray. Divide mixture among openings and top with remaining three tbsp cheese.
Bake for 25 minutes. Remove from the oven and let cool before serving.
Ingredients
1/2 head of cauliflower
2 cups shredded cheddar cheese
1/2 tsp onion powder
1/2 tsp pepper
1/4 tsp salt
2 tsp paprika
2 tsp red pepper flakes
1/4 cup almond meal
2 eggs
1/8 tsp garlic powder