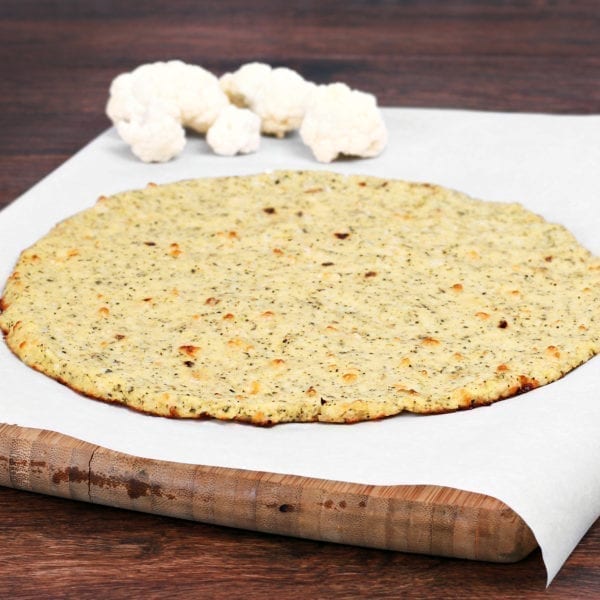 Rethink pizza with this low carb crust made from a mixture of cauliflower & your favorite shredded cheeses. A sprinkling of garlic, oregano, basil, and salt add classic Italian flavor.
1

Serving

5 min

Prep Time

25 min

Total Time
Directions
Preheat oven to 500 F.
Remove the stems from the cauliflower and cut into chunks. Place the cauliflower into a food processor and pulse it until it resembles the texture of rice. If you don't have a food processor, you can use a cheese grater or chop it very finely.
Microwave the processed cauliflower uncovered in a microwave safe bowl for approximately 4-5 minutes on high. Remove it from the microwave and allow it to cool for at least 4-5 minutes (trust us don't rush this step!)
After the cauliflower is cooled, place in a kitchen towel and squeeze out as much liquid as possible.
Combine the cooked cauliflower, egg, garlic, cheese, and seasonings. Stir until a dough texture forms.
Spread the cauliflower mixture out into the shape of a pizza crust onto lightly greased parchment paper or pizza pan.
Bake the crust for approximately 10-15 minutes (depending on your oven), or until the crust is golden and crispy. After the crust is golden, remove from oven and add your toppings!
Ingredients
1 small head cauliflower
2 tbsp Parmesan cheese, shredded
1/2 cup mozzarella cheese, shredded
1 small egg
1/4 tbsp basil, chopped
1 tsp oregano
1/16 tsp salt
1/16 tsp garlic powder