Chicken Fajita Stuffed Sweet Potato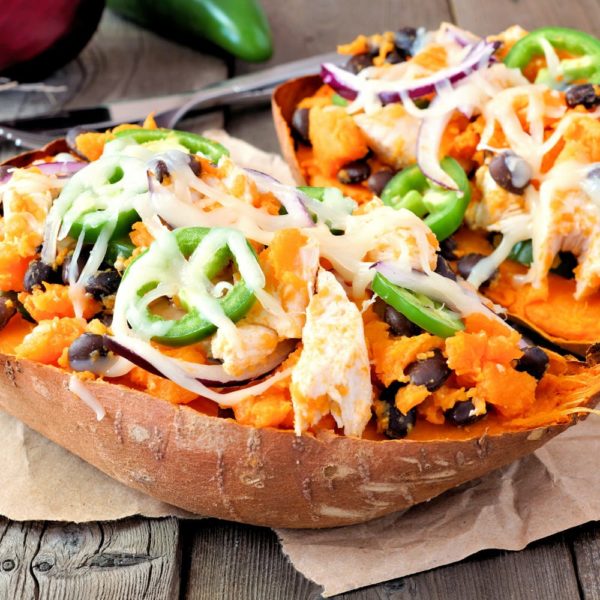 4

Servings

15 min

Prep Time

55 min

Total Time
Directions
Preheat oven to 400 F.
Using a fork, carefully poke a few holes into the sides of both sweet potatoes and place them in an oven safe glass dish. Bake for 35-40 minutes or until slightly tender on the insides.
Chop the chicken breasts into bite sized pieces.
Spray large skillet with nonstick cooking spray and cook the chicken on medium-high heat until pieces are fully cooked.
Dice the onion and peppers and add to the skillet with the chicken along with black beans, onion powder, paprika, salt, and pepper.
Continue to cook for approximately 5 minutes or until peppers are slightly tender. Remove from heat.
Once sweet potatoes are cooked, carefully slice each one in half. Score lines down each cut side vertically and then horizontally to form squares (imagine cutting a mango) and then carefully scoop the sweet potato cubes into a large bowl. Add the fajita ingredients from the skillet into the bowl and diced up avocado, then fold to combine.
Evenly distribute fajita filling into each sweet potato skin and top as desired with jalapeno and shredded Mexican cheese.
Ingredients
16 oz chicken breast, chopped
2 large sweet potatoes
1 red onion, quartered and diced
4 bell peppers, diced
½ cup black beans, cooked
1 ½ tsp onion powder
1 tsp paprika
1 jalapeno, sliced
2 avocados, diced
1 1/2 cup shredded Mexican cheese blend
salt and pepper, to taste