Feta and Spinach Pie with a Chopped Salad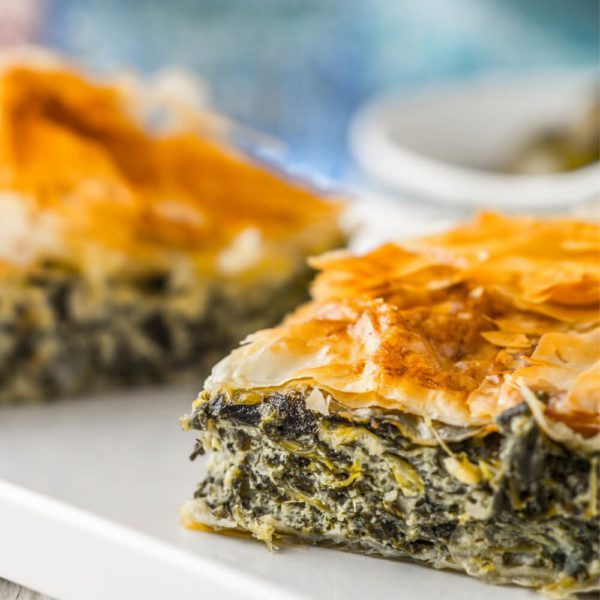 Enjoy our take on classic Spanakopita, a delicious savory Greek pie made of perfectly crispy layers of filo dough and a comforting filling of spinach and feta cheese served with a refreshing chopped salad.
4

Servings

Prep Time

Total Time
Directions
Preheat the oven to 410°
Make the filling by mixing the ricotta and feta cheese, beaten eggs, sundried tomatoes and nutmeg in a bowl.
Squeeze any excess water from the spinach, chop roughly and add to mix. Salt and pepper to taste.
Grease and line an 8x8 square baking tin. Carefully take a sheet of filo dough and drape it across the baking tin pressing it down gently into the tin leaving the edges overlapping the tin. Repeat with the other 2 sheets draping them at a different angle around the tin such that you create a little basket that you can place your filling in.
Add the filling to the center and then bring the edges roughly over to make the top of the pie.
Brush the folded over sheets with melted butter. Bake for 30 minutes until golden.
Place the tomatoes, cucumber, red onion, olives and mint in a bowl and drizzle with the olive oil and balsamic vinegar. Toss to coat evenly, and serve with the pie.
Ingredients
1 cup part-skim ricotta cheese
1 cup feta cheese, crumbled
2 large eggs
2 oz sundried tomatoes, drained (optional)
1/8 tsp nutmeg
2 cups frozen spinach, boiled and well drained (no excess water)
3 sheets filo pastry dough
1 tbsp melted butter
2 ¼ cups cherry tomatoes, chopped
2 ½ cups cucumber, peeled and chopped
1 small red onion, sliced thinly
3 oz olives
1/2 oz bunch mint (optional)
2 tbsp olive oil
1 tbsp balsamic vinegar
salt and pepper