Guiltless Sweet Potato Fries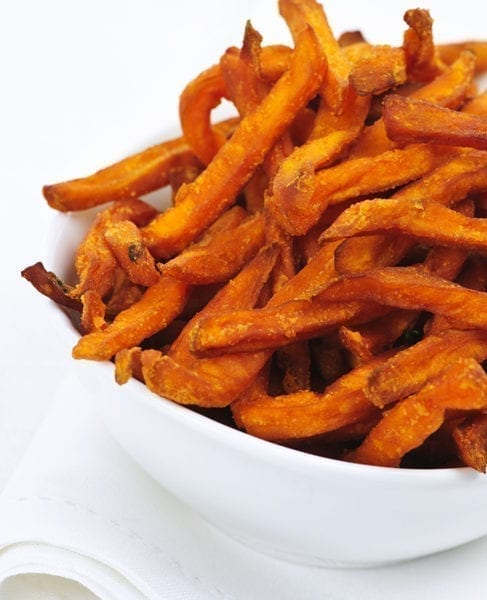 You won't miss the calories or crunch with these addictive baked sweet potato fries. Baked to perfection and simply seasoned this guiltless side accompanies any sensible meal.
6

Servings

15 min

Prep Time

75 min

Total Time
Directions
Preheat oven to 400 F and line a large baking sheet with parchment paper (foil, wax paper etc. will not work). Set aside.
Place cut sweet potato fries in a large bowl or resealable plastic bag and toss with cornstarch. You want a nice thin coating.
Pour the potatoes into a strainer and shake off extra cornstarch. Discard the extra cornstarch out of the mixing bowl too.
Place potatoes back into the bowl and add the oil, garlic, seasoned salt, chili powder, and black pepper.
Line the sweet potatoes onto the baking sheet (try not to crowd them or else they won't bake, they'll just steam). Bake for 15 minutes.
Remove from the oven and flip. Place back into the oven for 10-15 more minutes. Make sure to rotate the pan to avoid uneven browning.
Turn the oven off and keep the fries inside as the oven cools down for about 30 minutes. This step will help the fries get crispier. Enjoy!
Ingredients
3 sweet potatoes, sliced
3 tbsp cornstarch
4 tbsp olive oil
1 clove garlic, minced
¼ tsp ground black pepper
½ tsp chili powder
½ tsp seasoned salt