Kale and Goat Cheese with Grilled Chicken Salad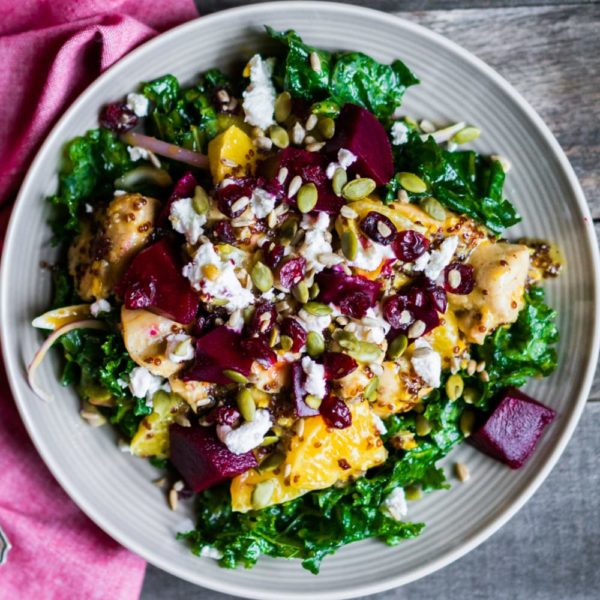 4

Servings

Prep Time

Total Time
Directions
To prepare your vinaigrette, whisk together the Dijon mustard, honey, apple cider vinegar, and olive oil with salt, pepper, and cayenne pepper in a large bowl. Set aside.
In a medium bowl mix lemon juice, 2 tablespoons of olive oil, and salt and pepper.
Add the kale, toss to coat, and let stand 10 minutes.
While the kale stands, chop up and prepare your toppings.
Add the onions, pecans, mandarin orange slices, grilled chicken, pumpkin seeds, beets, and goat cheese to the kale.
Season with salt and pepper and toss well with your vinaigrette. Serve with whole grain croutons.
Ingredients
3 tbsp lemon juice
2 tbsp olive oil
¼ tsp kosher salt
¼ tsp ground black pepper
4 cups kale, roughly chopped
2 cups whole grain croutons

Vinaigrette

2 tbsp olive oil
2 tbsp apple cider vinegar
1/4 tsp Dijon mustard
¼ tsp salt
¼ tsp ground black pepper
1 tsp honey
¼ tsp cayenne pepper

Toppings

1/4 tsp pecans
½ cup red onion, thinly sliced
2 mandarin oranges, segmented
10 oz grilled chicken, sliced
3/4 tsp pumpkin seeds
1 cup pickled beets, chopped
1 ½ oz goat cheese