Low Carb Pizza-Style Chicken Bake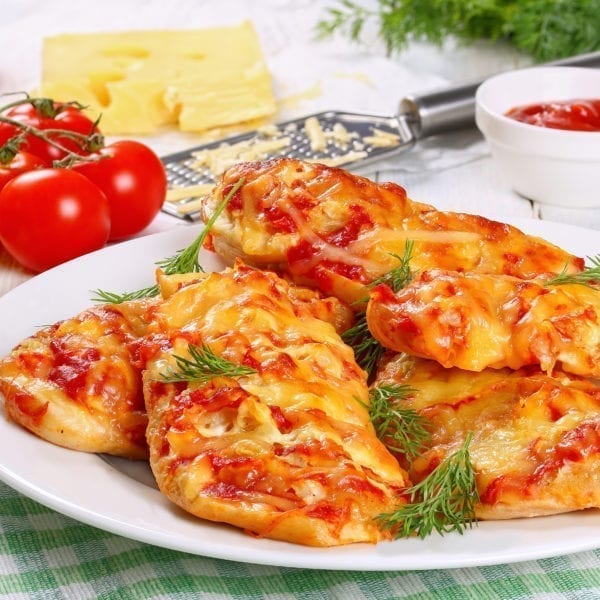 What if you could have all the flavor of your favorite pizza pie with the perk of less carbs? Thanks to this Pizza-Style Chicken Bake, you can. Peppered with pepperoni, and stringy mozzarella – it'll be a winning recipe in your rotation. Make it for dinner & pack the leftovers for an envy-inducing lunch.
Enjoy as a delicious lunch or dinner as part of the standard SlimFast Plan or if you're following SlimFast Keto!
4

Servings

5 min

Prep Time

35 min

Total Time
Directions
Preheat oven to 400° F. Put the pizza sauce in a small saucepan and simmer over low heat, about 10 minutes.
While the sauce reduces, trim the chicken breasts and cut each one crosswise to make two same-size pieces. Put chicken pieces one at a time inside a heavy plastic bag and use a meat mallet (or something heavy) to pound the chicken until it's as thin as you can get it without it shredding apart.
Season chicken with salt and garlic powder.
Heat the olive oil over medium-high heat in the largest non-stick frying. Add the chicken pieces and cook 1-2 minutes on each side, just long enough to brown the chicken but not long enough to cook it through.
Choose the smallest casserole dish you have that will fit all the browned chicken pieces, and lay the chicken in the dish in a single layer.
Cut the Mozzarella into slices as needed to make enough pieces to mostly cover the top of each piece of chicken.
Spread sauce over the top of each chicken breast. Top each piece with sliced Mozzarella and pepperoni slices, covering the top of each piece of chicken as much as you can.
Bake uncovered about 10-15 minutes, or until the cheese is melted and starting to brown and the pepperoni is slightly crisped. Serve hot.
Ingredients
1 ½ lbs chicken breast
5 oz mozzarella cheese
3 oz pepperoni
1 ½ cup marinara sauce
1 tbsp olive oil
1 tsp salt
1 tsp ground black pepper
1 tbsp garlic powder