Potato Latkes & Herbed Yogurt Dip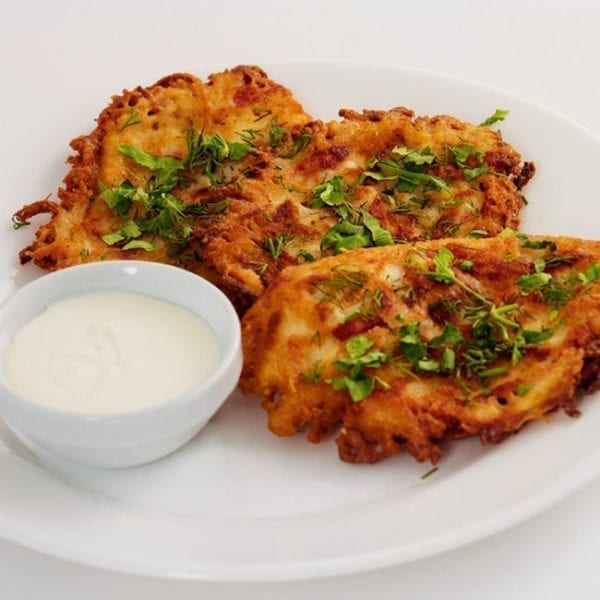 Try these delicious, low-calorie Potato Latkes. Top them with a protein-rich Herbed Yogurt Dip and you've got a perfect celebration appetizer that sticks to the SlimFast Plan!
18

Servings

35 min

Prep Time

80 min

Total Time
Directions
Combine Greek yogurt, onion powder, lemon juice, chives, parsley, dill, basil, and red wine vinegar to make yogurt dip.
Chill yogurt dip for 30 minutes before serving.
Set oven racks in center preheat oven to 425 F.
Peel the potatoes, then coarsely grate using a food processor or box grater.
Grate onions and combine with potatoes.
Place potato mixture in a colander and press down firmly with paper towel to remove excess moisture. The drier your potato mixture is, the less moisture and starch will be present and the potatoes will crisp up better.
Transfer potato mixture to bowl and mix in eggs, salt, baking powder, and flour.
Spread two tablespoons of vegetable oil, evenly, on two heavy nonstick rimmed baking sheets.
Drop batter by the ¼ cupful onto the baking sheets, spacing them about 1-1/2 inches apart. Press down on latkes to flatten just slightly.
Bake for 15-20 minutes, or until bottoms are crisp and golden. Carefully remove pans from oven and flip latkes. Place pans back in oven and cook until latkes are crisp and golden brown, about 10 minutes more.
Remove pans from oven and transfer latkes to large platter lined with paper towels. Serve immediately with 2 tablespoons of the herbed yogurt dip.
Ingredients
1 cup plain, fat free Greek yogurt
1 tbsp onion powder
1 tsp lemon juice
1 tbsp chives, chopped
3 tbsp fresh parsley, chopped
1 tbsp dill
1 tbsp fresh basil, chopped
1 tsp red wine vinegar
2 lbs russet potatoes
1 medium yellow onion
2 large eggs
2 tsp salt
2 tsp baking powder
1/4 cup flour
4 tbsp vegetable oil