SlimFast Plan Meal Prep Hacks
Diets are an adjustment, not a punishment. The SlimFast Plan offers me the freedom I need to drop the pounds – and stay satisfied. I dress up my chocolate meal replacement smoothie with a hint of peanut butter and banana. When it comes to my sensible 500-calorie meal of choice, simple modifications give my favorite dishes the SlimFast stamp-of-approval. Whether it's a good ol' fashioned burger or a piping hot pizza that gets the taste buds dancing, having an arsenal of healthy takes on the classics help me stick to my goals. You can, too!
With the start of 2018, I am excited to hear everyone's resolutions! I love the optimism that comes with a fresh New Year, and enjoy seeing others around me succeed. If you're new to The SlimFast Plan, I want to be the first to say welcome! I cannot sing enough praises about the brand and how it has impacted my life. Two years and 40 pounds later, I'm still drinking my shake every morning. My favorite combo is the chocolate meal replacement smoothie powder blended with ice, banana, powdered peanut butter. and almond milk. My day really doesn't start until I have that to fuel me. I know that diets can be overwhelming in the beginning, so I wanted to share with you some goodies to get you kick started on The Plan. One of the most popular questions I get is: What do I eat for my sensible 500-calorie meal? In order to put an end to the age-old question: "What's for dinner?", I keep an arsenal of tasty & easy recipes I can make in a pinch. I'm going to leave you today with three recipes for your first week. Try them out, change them up, and most of all enjoy them! I want to assure you that there are ways to eat your favorite foods while sticking to your weight loss goals; you just have to modify a little. Here's how I do it:
Bunless Burger
Ground beef
Seasoning
Cheese
Lettuce
We all know it's what's inside the burger bun that counts! Make patties out of seasoned ground beef and cook to your desired temperature. Add cheese and use lettuce as the "bun". Instead of fries, I enjoy SlimFast sour cream and onion chips as a side. Feel free to adjust this recipe; mix it up with a black bean burger, ground turkey, or even fish. If you are into toppings, just make sure to measure them out. Everything has nutritional info right on the label; so, be sure to measure out a tbsp. of BBQ sauce instead of slathering it on.  When in doubt, opt for no-calorie seasonings. It's those little adjustments that can make an enormous difference.
Pizza
Personal sized crust
Skim milk cheese
Pesto sauce
There's nothing like a fresh, bubbly pizza pie straight from the oven. This is one of my favorites – and it only takes ten minutes to make! Head to your local grocery store and pick up a premade personal sized pizza crust. Measure out your sauce, cheese and toppings, then pop it in the oven, and voila! There's no need to order in when you can make your own and know exactly what's in it. Taking the mystery out of food means you can stick to your goals. Put a creative twist on pizza with a Southwest influence; just add pesto sauce, avocado, and corn. You can add anything to your pizza in moderation; just remember to track the nutritional info and you're good to go!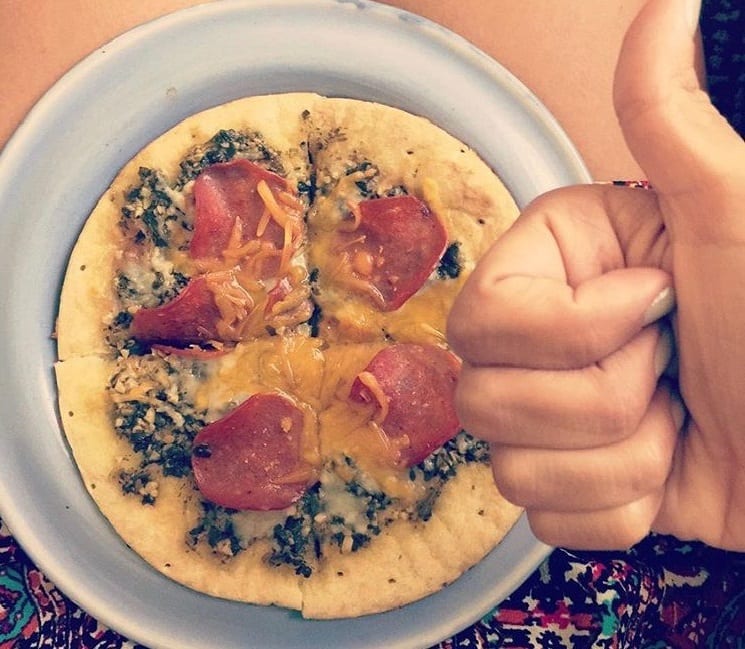 Spaghetti and Meatballs
Ground turkey
Zucchini
Sauce
Now I don't know about you, but I love pasta! If you don't have a veggie spiralizer, I suggest getting your hands on one. A huge game-changer for me, it allows me to put a low carb twist (pun intended) on "pasta" favorites. Spiralize a zucchini, add sauce, and cook on the skillet to your liking. As I've mentioned before, it's important to measure out the sauce. For the meatballs, I like to make my own. I season ground turkey and cook in a skillet until browned; they're the perfect addition to my meal. I usually make about 3-5 meatballs depending on the size.  If you have calories left over, you can even add a little bit of cheese.
So, there you have it. You don't have to wave goodbye to burgers, pizza, and pasta. Diets don't have to be hard. They're an adjustment, not a punishment. I challenge you to find healthier ways to enjoy your favorite foods. It's fun and helps you get one step closer to realizing your goals. And don't forget, I'm rooting for you!