Dried Plum Balsamic Pork with Roasted Veggies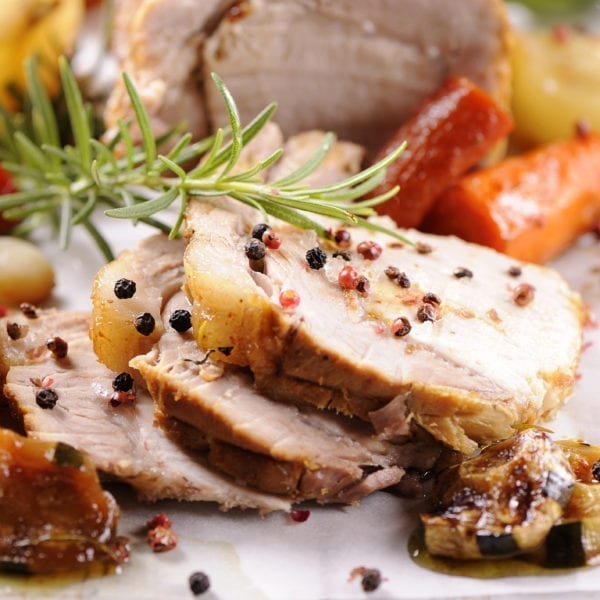 Coarsely-chopped onions, bell peppers and carrots create a deliciously fragrant broth for roasting this tender pork. Combined with the sweetness of dried plums and served over brown rice, this healthy, restaurant quality dish will have the whole family raving!
4

Servings

30 min

Prep Time

70 min

Total Time
Directions
Preheat oven to 400 degrees F.
Arrange pork in 13 X 9-inch roasting pan. Brush with 1 tablespoon salad dressing; set aside.
Toss onion, carrots, green pepper, mushrooms, celery, prunes, garlic and remaining salad dressing on cookie sheet. Roast both pork and vegetable mixture 20 minutes or until pork is done.
Remove pork and let rest covered loosely with aluminum foil to keep warm.
Stir vegetables and continue roasting, stirring once, 20 minutes or until vegetables are tender. Stir in broth.
Arrange hot rice on serving platter, then top with sliced pork and vegetables.
Ingredients
1 1/2 lbs pork tenderloin
1/2 cup balsamic vinaigrette dressing
2 cups onion, coarsely chopped
2 cups carrot, coarsely chopped
2 cups green bell pepper, coarsely chopped
2 cups white button mushrooms
1 cup sliced celery
1/2 cup pitted prunes, chopped
2 cloves garlic
1/2 cup fat free reduced sodium chicken broth
2 cups brown rice, cooked