Raquel
Lost 31 lbs. and 14″ in 28 weeks
With the passing of her parents, Raquel fell into habits that caused her to gain over 40 pounds. After making the decision to focus on herself again, Raquel turned to the SlimFast Plan. Read how the simplicity of the Plan allowed Raquel to achieve her goals and become an inspiration to her family while losing 31 lbs. in 28 weeks!
Since the passing of both my parents four years ago I put on over 40 pounds. I have never been that heavy, even when I was pregnant with my kids. I truly believe that being on the SlimFast Plan helped me change my way of thinking, my eating habits and has shown me I have much stronger willpower than I thought I did.
Once I started the SlimFast Plan I told myself I have to do this for me, my kids and my husband. I told myself, "I want to be around to be an amazing grandmother like my mom was to my kids." However, with the path that I was on, that was not going to happen. Thanks to SlimFast I've lost 31 pounds to date, and I honestly feel that I am now on the right track. I can fit into clothes that I had sitting in my closet for years. With this weight loss, I can now do a lot more outdoor sports and activities with my kids.
"I Want to Be Around to Be an Amazing Grandmother like My Mom Was to My Kids."
What I love the most about SlimFast is that it's very convenient, especially when you have a daughter who plays volleyball and basketball.  She keeps me on the road and in a gym 3 to 4 days a week. Having the drinks and snacks on the go kept me on track. The ease of stowing a few drinks or snacks in the cooling compartment of my vehicle kept me from falling off and hitting up the fast food restaurants, when I would find myself out in the streets and starting to get hungry.
The journey was not easy, but once I told myself," I could do this" and started seeing the results, I was able to stay motivated. I would get up every morning, drink my shake and start my two mile walk. Initially this was a very hard exercise for me. I was constantly sweating and out of breath during the first two weeks, but now it's a piece of SlimFast chocolate cookie LOL.  I also try to work out in the evenings with my family. They were with me all the way helping me reach my goal and keeping me on track and motivated.
"A Benefit To The SlimFast Plan Was Having To Only Worry About One Meal a Day. This Allowed Me to Focus on Other Things, like My Family, My Health and Me Time."
I started to watch the amount of calories I put into my body each day and what kind of calories I put into my body. I still eat some of the same foods but pay closer attention to what I cook and how much of it I eat each day. A benefit to the SlimFast Plan was having to only worry about one meal a day, which for me was dinner. This allowed me to focus on other things, like my family, my health, and Me Time.
To help show his support for what I was trying to do, I even got my son to cut out High Fructose Corn Syrup. Now he drinks only water with zero-calorie flavoring instead of the other juices and drinks.
Thanks a MILLION SlimFast for the new and improved slim me!
Raquel
† Raquel is a remunerated Brand Ambassador and used the SlimFast Plan (a reduced-calorie diet, regular exercise, and plenty of fluids) for 28 weeks. Average weight loss is 1-2 lbs per week. Results not typical. Read label prior to use. Check with your doctor if nursing, pregnant, under 18, or following a doctor prescribed diet.
Before & After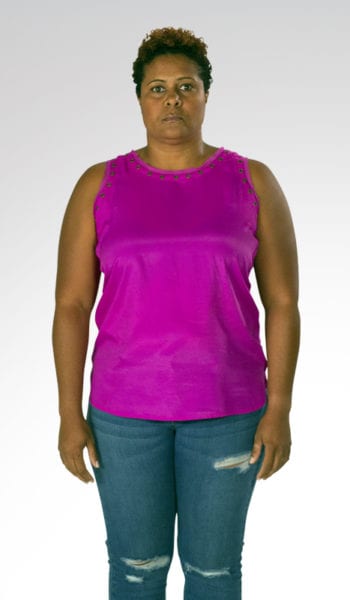 Feeling Inspired?
No matter your reason for losing weight, SlimFast wants to help you achieve your goals fast!* So, what are you waiting for?
Get Started Today!